No single person can create a community. It requires the labor and love of individuals coming together to share their gifts. Yoga NoMa is honored by the efforts of its community leaders and those who have stepped forward to be owner-operators. At Yoga NoMa all bodies and voices are welcome and amplified. We rejoice that our leadership reflects the rich diversity of our community.
Pillars: The current-owner operators.
Alisha (RYT-200, RPYT) came to Yoga NoMa first as a law student and now continues to give back to the community by doing her dream job: leading the studio as an owner-operator and teaching. Alisha enjoys the way Yoga NoMa allows both students and teachers alike to find themselves on the mat. When not teaching yoga, Alisha advocates for women and healthcare rights and equality at Planned Parenthood Federation of America.
A serial entrepreneur and former research professor, John joined the Yoga NoMa community after completing the Whole Yogi yoga teacher training in 2017. He co-founded, along with Alisha, a volunteer-based yoga program (Meet in the Middle) that partners with the Community Services Foundation to provide free yoga classes to senior residents in DC community centers since 2017. When not teaching yoga, John currently works as a data scientist for boutique consulting firm specializing in business intelligence, commercial gaming, and national security; and as a co-founder and managing editor of the South Living Room, which is a digital space sustaining and empowering entrepreneurial, creative projects (such as blogs, podcasts, fiction, etc) for Millennials.
Legacies: The Operator Emeriti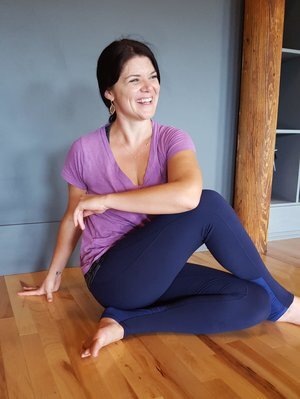 A former middle-school principal, Christine works for a DC education consulting firm coaching principals in DC charter schools. She has been teaching at Yoga NoMa in 2015, appreciating the strong community that's been formed among teachers and practitioners. She transitioned to Operator Emeritus in September 2019.
Yoga NoMa was founded by Julia Romano, whose personal chief mission is to keep yoga affordable, accessible, and joyful. Julia is a masters level Certified Yoga Therapist (C-IAYT, 2016) with masters in clinical psychology, and conflict management. She teaches yoga as process, one of continual refinement, whereby dysfunctional patterns of the mind and body are reworked so that one may gain access to an internally derived inner and infinite source of ease and peace. She transitioned to Operator Emeritus in August 2018.